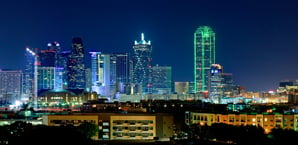 3.7% unemployment rate in April ties record low; D-FW's is 2.8%
Texas' unemployment rate fell once again in April as the state created more jobs year over year than any other state.
The state's workforce has found itself back at a 3.7% unemployment rate, equaling the record low set in late 2018, according to the latest data released by the Texas Workforce Commission. Just one year ago, Texas unemployment was at 4.1%.
The state added 28,900 jobs in April, marking the 108th consecutive month of job growth in Texas. And 283,000 jobs were added year over year through April, clocking a growth of 2.7%. Texas job growth has been above 2% for the last two years, according to TWC.
"We had a very robust jobs number in April," said Pia Orrenius, vice president and senior economist at the Federal Reserve Bank of Dallas.
Year over year, Texas added more jobs than any other state, including California, which has over 10 million more people than the Lone Star State.
California added 271,600 jobs, according to the latest Bureau of Labor Statistics data for April.
"Our state's ongoing success is linked to the innovation and competitiveness of employers in a range of industries providing Texans more opportunities to demonstrate their world-class skills," TWC chair and commissioner representing employers Ruth R. Hughs said in a statement Friday.
The professional and business services sector led job growth in the state, adding 8,400 jobs. And employment in energy industry jobs rose by 2,700.
Growth in construction as well as education and health services grew considerably, adding 5,800 and 4,300 jobs, respectively.
"We had a very low employment forecast for this year, but it's just gotten continuously revised up," said Orrenius. "So we're happy."
The job growth is a step up from March, when Texas added 22,600 jobs.
The continuing trend of low unemployment is one that worries economists and employers alike. The tight labor market can make it difficult for employers to find qualified workers.
Dallas-Fort Worth had an unemployment rate of 2.8%, down from 3.3% in April 2018. The metro area added 7,200 jobs over the month. Job growth was driven by many of the same trends fueling overall state job growth, Orrenius said.`
This is an original article by Dom Difurio, Staff Writer at Dallas News. A copy of the article can be found here.
US Freedom Capital is an investment manager offering US real estate investments to global investors. The offerings are structured either for financial return or for immigration by investment utilizing the EB-5 Investor Visa.The company operates worldwide from offices in Dallas, Dubai, Mumbai, São Paulo, and Washington DC. The leadership of US Freedom Capital include both the former Director and Acting Director of Immigration and real estate executives with over $3 billion of real estate investment experience.