The Indian rupee slumped to an all-time low as a resurgence in crude prices and the emerging-market selloff took a toll on the currency of the world's third-biggest oil consumer.
The Indian currency slid as much as 0.7 percent to 69.0925 per dollar Thursday, past its previous record of 68.8650 reached in November 2016. The weakness spilled onto bonds, where the benchmark 10-year yield climbed six basis points to 7.94 percent.
Brent crude's sustained gains since the middle of 2017 has led to a widening of the nation's current-account and fiscal deficits at a time when global funds have become selective about their emerging-market investments. India relies on imports to meet about two-thirds of its fuel needs, and the International Energy Agency expects the country to remain the fastest-growing oil consumer through 2040.
"Given India's current-account deficit, there is a need to fund it, but we are on track for a fifth consecutive month of bond outflows and the equity market has also been experiencing outflows," said Khoon Goh, head of Asia research at Australia & New Zealand Banking Group Ltd. in Singapore. Without a turnaround, the rupee may weaken past 70 per dollar, he said.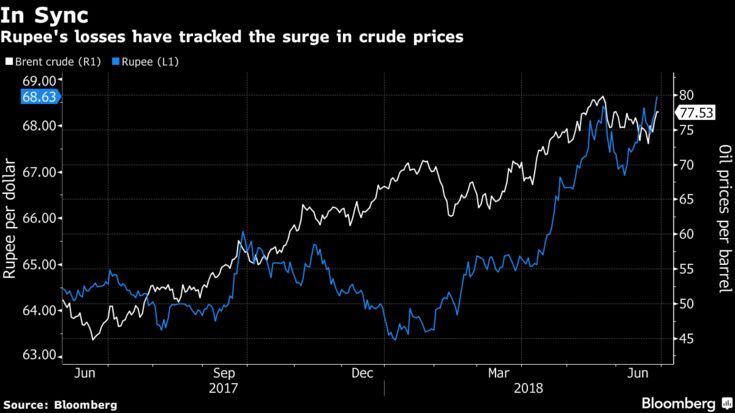 Overseas investors have reduced holdings of rupee-denominated government and corporate bonds by $6.1 billion, and pulled $785 million from equities since the beginning of 2018. The withdrawals have made the rupee the worst-performing currency in Asia, spurring analysts to put out bearish forecasts.
Barclays Plc now predicts the currency at 72 by year-end, while DBS Bank Ltd. sees 71 to a dollar by June 2019. The rupee retraced some losses to close 0.2 percent lower at 68.7925.
India's assets are caught in a vicious downward spiral, where capital outflows are hurting the currency, further deterring investments. Concerns about the government's debt sales and the impact of rising crude prices on inflation have led to a bond selloff at time when investors are also pulling out of emerging markets because of higher Treasury yields.
Cautious View
Every $10 rise in the oil price worsens India's current-account balance by 0.4 percent of gross domestic product, and pushes up inflation by 30-40 basis points, according to Nomura Holdings Inc.
"Our view on broad EM is still one of caution, something we have been advocating for some time," said Dushyant Padmanabhan, a currency strategist at Nomura in Singapore. "INR in particular has also been hit by the rising oil price. Uncertainty on all these fronts could persist for some time."
Oil has gained this week as the U.S. puts pressure on its allies to halt purchases of Iranian supplies. West Texas Intermediate crude was down 0.1 percent at $72.70 a barrel in New York after rallying 3.2 percent on Wednesday.
Reserves Shrink
India's foreign-currency reserves have fallen in eight of the nine weeks to June 15, suggesting the central bank has been intervening to stem the pace of the currency's decline. State-run banks are probably selling dollars and buying rupees on behalf of the central bank, two traders from local lenders said Thursday, citing price action.
A central bank spokesperson wasn't immediately available for comment on the rupee's move.
The RBI raised its interest rates earlier this month, joining other emerging economies like Indonesia and Philippines, which tightened policies to defend their currencies.
---
By Subhadip Sircar. The original article was posted in Bloomberg on June 28, 2018 and a link to it can be found here.