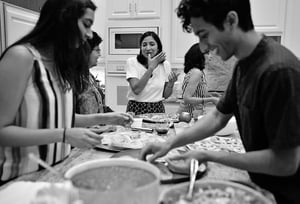 The spice-stained plastic spoon of indeterminate age (and measurement) is an object of legend in Ritu Krishna's Dallas kitchen, where she's cooked hundreds of Indian dishes from memory over the last 20 years for her children and extended North Texas family.
More than a teaspoon but not quite a tablespoon, Ritu's go-to cooking staple became a source of playful, spirited discussion as she and her daughter, Priya Krishna, worked together for months to get precise measurements and finally write down all those family recipes for their new cookbook, Indian(-ish): Recipes and Antics from a Modern American Family (Houghton Mifflin Harcourt, $28).
"My mom pretty much wrote all the recipes, sourced from aunts and uncles," says Priya, 27, a food writer based in New York who regularly writes for The New York Times and does cooking
videos for Bon Appétit magazine. "I don't know how people write cookbooks not with their mom."
The book is fun, casual and approachable (with measurements in real teaspoons and tablespoons, no more -ish there), with a modern mix of Indian flavors and American sensibility, just like the Krishna family.
"It was important for me to make the recipes accessible to the home cook," Priya says. "I think everything in my book you can cook on a weeknight. My mom was a working mother and didn't have time to slave over a stove."
Ritu's kitchen
On a recent Friday night, during a brief break in the middle of Priya's U.S. book tour, she and Ritu were making roti pizzas and aloo parathas (both recipes from the book).
Even before it officially published in late April, Indian(-ish) was kind of a big deal, receiving much acclaim and attention nationwide, with write-ups in almost every major food publication, from Food & Wine magazine to Saveur . But now we're in Dallas, cooking with the authors in the heart of the Krishna home, the kitchen where it all began.
Ritu hovers, just a little bit, as Priya chops red onions and cilantro and floats back and forth to tend chickpeas in the Instant Pot, open a bottle of wine or grab her spice spoon from the cabinet, which she insists has been replaced at least a few times.
"This is, like, her only utensil," Priya says of the spoon. "It looks old. It looks like it's been through stuff."
The red onions Ritu is chopping will go atop the roti pizzas along with a fragrant cilantro chutney and lots of sharp cheddar. It's a fun party dish usually made for a casual gathering of the cousins, Priya says, many of whom are arriving later in the evening for dinner, along with aunts, uncles and family friends. The pizzas are easy to make in large batches, and the Krishnas use store-bought whole wheat tortillas instead of making roti from scratch.
The aloo parathas, on the other hand, are a special recipe — yet still simple — from Priya's aunt, Rachna Elhence.
"I'm glad Rachna's not here and will only witness the end product," Priya says as she shapes dough for the parathas and the aroma of freshly-crushed fennel wafts through the kitchen. "It's terrifying with my mom watching me cook, much less my aunts."
Parathas are a flat-ish bread filled with potatoes and spices, and Aunt Rachna's version is much heavier on the potatoes than the dough, about an 80/20 ratio that makes them soft and satiny, Priya writes in the book. It's one of the first dishes Priya requests from Rachna when she comes home to Dallas.
Priya places the balls of potato filling on top of the dough, then begins to roll them out as her cousins Meha Elhence, 21, and Hirsh Elhence, 24, arrive. Priya puts them both to work in order to get the parathas finished and thrown on the stove. The shapes are imperfect, round-ish, but no one seems to mind. They will still taste amazing. When Rachna arrives, she gives her stamp of approval and heads straight to the stove to help. Priya says she herself is not the most intuitive cook, which is one of the book's strengths.
"Sometimes I feel like people who write cookbooks are too good at cooking," she says. "I feel like, weirdly, me not being the world's best cook came in handy. If I can do this, then anyone can."
More than a cookbook
And Indian(-ish) is obviously so much more than a cookbook. It's part memoir, part family heirloom, part love letter and part coming-of-age story for a second-generation American who has come to appreciate and eventually celebrate her heritage.
"I didn't start to fully accept the food and culture of my people until I became a food writer," Priya says. Her Dallas private school was "pretty white," and she didn't feel like she fit in.
"I was almost embarrassed by the food my mom cooked at home." She begged for peanut butter and jelly sandwiches instead of dal. But as she started writing, she says she realized her upbringing is what makes her voice so unique.
"I'm not an authority on all Indian food, but I'm bringing Indian food to a space that has leaned more toward covering Western food cultures," she says.
Priya's parents, Ritu and Shailendra Krishna, grew up in Delhi, India, and moved to the U.S. in 1980. They lived in New Hampshire before moving to Texas, and their siblings eventually followed so they could all raise their children together. Ritu became a software programmer, traveling around the world for her job while still cooking for their "enormous" Indian family at home, Priya says.
" -Ish is a tribute to how we are very Indian and also very American," Priya says. "My mom only learned how to cook when she emigrated to the U.S. Her cooking skills were informed by her childhood in India but also her American setting, watching Julia Child, Jacques Pépin. She was reaching for something familiar, combining that with their new setting."
There are more than 80 recipes in the cookbook, mostly vegetarian, and there are no curries because, as Priya states, "There is no such thing as curry." The book explains which spices, beans and lentils to stock up on, and basics such as how to boil potatoes. There are mother sauces (raita is key), simple chutneys and dips, five ways with kachumber and a playful essay on yogurt from Priya's dad.
One of the recipes most influenced by their Texas home is the one for roti roli polis, named after the prolific Texas bug, Priya says. They're like taquitos, but instead of rice and beans, they're filled with potatoes and cauliflower.
"It's an ode to all of the flour-wrapped things we ate in Texas," she says. You'll also find white-bean stuffed poblanos and Indian versions of other popular dishes like Italian ribollita, English breakfast baked beans and the aforementioned roti pizza.
Techniques are simple and well-explained, and Priya cheers you on all the way, with "Don't be intimidated!," "You can cook it!" and "It'll work just fine!"
But if there's one Indian cooking technique Priya says we should all master, it's chhonk, which she dubs "the greatest Indian cooking technique ever." It's tempering spices in ghee or oil, and it's a magical base that gives an intensity of flavor and depth to everyday dishes, from noodles to nachos.
"I rewrote the instructions for making chhonk more than any other recipe," Priya says. "Chhonk has become one of my unofficial hills to die on."
The spices are flexible and customizable, from cumin and chile powder to mustard seed and curry leaves, and the amount of flavor is up to you. You can measure the spices out carefully or find your own plastic spoon once you get comfortable. It's your home, after all.
A copy of the original article can be found here.
US Freedom Capital is an investment manager offering US real estate investments to global investors. The offerings are structured either for financial return or for immigration by investment utilizing the EB-5 Investor Visa.The company operates worldwide from offices in Dallas, Dubai, Mumbai, São Paulo, and Washington DC. The leadership of US Freedom Capital include both the former Director and Acting Director of Immigration and real estate executives with over $3 billion of real estate investment experience.