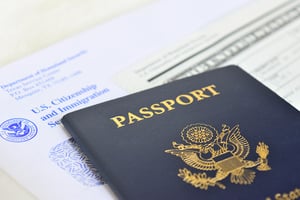 What is the EB5 Investor Visa?
If you are not a citizen of the US but have a high net worth and are looking for ways to become a part of the American Dream by attaining a Green card, the EB-5 visa is for you.
The Immigrant Investor Program, also known as the EB5 Visa Program, was created by the US government in 1990. The goal of the Program was to give a boost to the US economy through a push via job creation and capital investment in new business enterprises by eligible immigrant investors. The visa enables immigrants to lawfully become US citizens by investing $500,000 to $1million in eligible investment structures. If the investment is made in an area with unemployment rates 1.5 times more than the national average, also known as Targeted Employment Area (TEA), then the required investment amount is $500,000. Otherwise, it is $1 million. Around 10,000 EB 5 visas are issued annually to immigrants from all over the world and no discrimination is made on the basis of age, gender, religion, language, education etc.
Basic requirements to qualify for an EB5 Visa:
Sounds enticing and easy, right? There are, however, certain boxes that need to be ticked before an individual is deemed suitable:
Funds amounting to at least $500,000 to $1 million depending on where you invest.
A legitimate and verified source of income and funds to be invested.
Creation of at least ten full-time jobs for two years. (not required directly if investing through an approved regional center)
Why choose the EB-5 Investment Program?
The EB-5 visa program is the most effective and successful way of gaining legal US permanent residency for you and your family. It has a plethora of benefits over other immigration programs, some of which are:
Just a single EB5 visa application entitles an EB-5 investor, their spouse and their unmarried children under the age of 21 years to be eligible to receive green cards.
Hassle-free travel to and from the US without a visa and a smooth international travel experience all over the world due to the immense power of a US visa.
An EB5 visa holder does not require any sponsors.
The amazing possibility of gaining American citizenship after a minimum of 5 years as established permanent residents. You can even choose to not take up citizenship and opt for renewal of your permanent residency after every 10 years.
An EB-5 visa holder can move to the US with immediate effect in case of a crisis in their home country. Unlike usual cases where an international worker requires an H1B visa to find employment in the US, an EB 5 visa holder does not need one.
You get the freedom to live and work anywhere in the US and are not restricted to the area where you invested your funds.
Education benefits ranging from access to the public elementary, middle, and high schools to lowered cost of tuition at public colleges and universities as compared to international students.
Unlike other visa programs, an EB-5 holder does not need to manage daily business operations or employees.
Here is a graph showing the positive impact of EB 5 visa on the US economy. The graph is a clear indication of the advantages of EB-5 and why the government actively supports the program.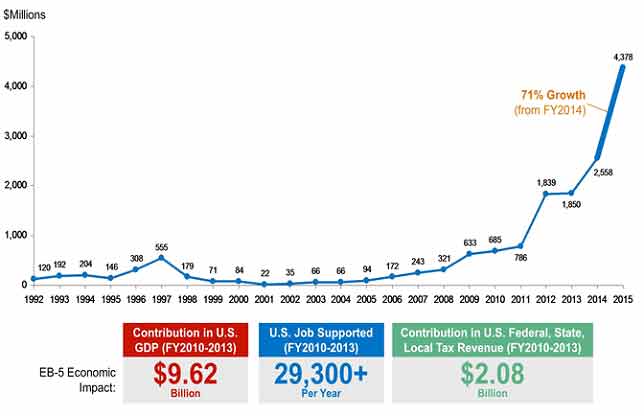 Why you need to hurry!
There is no doubt about the fact that EB5 visa is the best option for anyone looking forward to living in the US as a permanent resident if they possess the necessary funding.
However, things are changing at a rapid pace as the popularity of EB-5 is skyrocketing and a flood of applications are being received. Another cause for great concern is EB-5 retrogressions.
Each country is allowed up to 7 percent of the 10,000 visas, issued under this scheme every year. If the 10,000 quota is not met, the 7% quota ceases to apply. This benefit has been mostly reaped by smart Chinese investors looking to immigrate to the US. For the first time, however, India might soon see all of its quota of 7 percent filled as a result of the ongoing rush to obtain US residency.
While an average Chinese needs to wait up to 8-10 years for the approval of their EB 5 application, the waiting time is still 18-36 months for the average Indian. This is set to change soon as more and more Indians gain awareness about the EB-5 visa. Various statistics hint at how the backlog of pending applications is growing steadily and is soon set to affect nations other than China. If you are considering American residency, it is critical to start working on your EB5 visas as soon as possible.