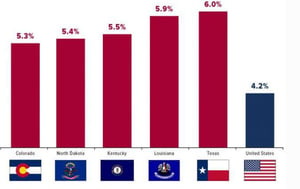 Texas stands as the second largest state in the US in context of both area and population. More importantly, it is also the second biggest economy following California, with $1.8 trillion in GDP. The state economy is fueled with a wealth of natural resources, leading colleges and universities, and a variety of industries. Texas is now a hub for technology companies and Austin (one of Texas's biggest cities) has been ranked as the top tech city in the USA by numerous industrial publications.
A strong economy acts as a catalyst for an increase in jobs, further a critical factor that propels housing and real estate investments. The other major cities of Texas, including Dallas, Houston, and San Antonio, are all booming economies and are frequently ranked as the most desirable places to live in and execute business in. Even while the state stands at the foreground of development and innovation in the global economy, Texas still is deemed as a market with huge opportunities and great value waiting to be explored.
The Lone Star State: (Stats)
Texas, with about $1.8 trillion in gross domestic product, accounted for approximately 9% of the nation's economy for 2018. Why is the Lone Star State an attraction for investment? Following are some of the basics which make it a robust investment:
A hub for conducting business:

Forbes ranks the state third among others in the US for conducting business, supported by the prevailing low business cost there. The job growth rate at Texas accounted for 2.8% in 2018 and it stood third for current economic climate and first for its growth prospects, pertaining to strong employment and income growth forecasts over the next five years.

A manufacturing powerhouse:

Texas generated a manufacturing industry output of $226.16 billion in 2017, which is 10% of the total US manufacturing goods, as per the data of Federal Reserve Bank of Dallas. The industry backs at least 865,000 jobs in Texas, which forms around 7.1% of the workforce. This further provides a push to the GDP growth of the state.

Major exporting state:

The Lone Star State executes a majority of the country's exports, constituting an almost 20 percent of total US exports, which are believed to be growing due to its oil and gas industry.

A global oil producer:

In 2018, Texas reached a record production of 1.54 billion barrels, crossing the record production of 1.28 billion barrels in 2017. According to HSBC predictions, the state will move ahead of OPEC members Iran and Iraq, in 2020 to become third highest oil producer globally, covering US's half oil production. According to the IHS reports, the Texas oil production will affect the 2023 forecast with around 41,000 new wells and $308 billion in investment.

High Employment rate in Texas:

As per Federal Reserve Bank of Dallas' economic indicators report, the Texas employment increased to an annualized 2.2% in March 2019, compared to its long-term growth of 2.0%. Texas has an unemployment rate of less than 4%.

High personal income growth region:

Texas has a strong business environment with an added benefit of zero corporate tax, which is extremely attractive for high net worth individuals. As per Bureau of Economic Analysis reports, for the June-2019 quarter, the incomes of Texas workers saw a 6% growth, compared to 4.2% growth for American on an average.
WHY TEXAS: ECONOMIC AND IT BOOM, DEMOGRAPHICS AND LOW TAXES!
Texas is one of the strongest economies in the US and is home to several of the fastest growing US cities. The state's economy is booming due to the contribution of various sectors like oil and gas industry, tech industry and others.
Demographics and low taxes:
Demographics and low taxes:
he population of Texas was recorded to be 29.10 million in 2019, increased from 25.1 million in 2010.
Texas has been ranked the 3rd best state in the US for business purposes and levies lower taxes and less burdensome regulations that encourage business ownership.
With no corporate or personal income tax, the state imposes the lowest tax burden on the residents, in the whole country. Some of the tax policies include sales tax exemption for manufacturing machinery and equipment and R&D related equipment, property tax abatements, local cash grants and local funding for companies considering relocation or expansion in the state.
WHY EB5 IN TEXAS MAKES COMMERCIAL SENSE?
The Texas Economy
The state's economy is robust and is brimming with investment potential:
High employment rates
Easy workforce availability
• Relatively lower housing cost
Presence of major tech companies
The EB5 investment visa program involves choosing a regional center for the $500,000 investment. Texas fits the bill as a business friendly state. Consider this- California has a state corporate tax of around 9%. So your Texas EB-5 investment has a 9% per year head start over a similar California investment.
Want to compare Texas with New York? The Big Apple has a 6.5% tax rate and massive cost of operations that erodes a company's profitability. It makes commercial sense to have Texas as your first choice for EB-5 investment. Not only is the economy is backed by the wealth of natural resources and varied industries; it is home to over 50 Fortune-500 companies. If you are looking for a safe, prudent investment- Texas is your "lone choice."
US Freedom Capital is an investment manager offering US real estate investments to global investors. The offerings are structured either for financial return or for immigration by investment utilizing the EB-5 Investor Visa. The company operates worldwide from offices in Dallas, Dubai, Mumbai, São Paulo, and Washington DC. The leadership of US Freedom Capital include both the former Director and Acting Director of Immigration and real estate executives with over $3 billion of real estate investment experience.