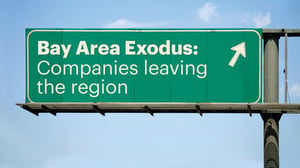 Business recruiters from the Texas Economic Development Corp. were in the Bay Area last week, seeking to persuade more companies to consider the Lone Star State for expansions or headquarters relocations.
Separately, the Dallas Regional Chamber will come through town next month to take advantage of the momentum the Dallas-Fort Worth area is enjoying, having lured the Bay Area headquarters of two Fortune 500 companies in recent months: San Francisco-based McKesson (NYSE: MCK) and South San Francisco-based Core-Mark Holding Co. (NASDAQ: CORE)
Jessica Heer, senior vice president of talent attraction and leadership for the Dallas chamber, will participate in a panel discussion on whether a Bay Area exodus is underway and what it means for the region. Other panelists include representatives of the Bay Area Council and the Greater Sacramento Economic Council. The event will be conducted by the Northern California Corenet chapter at the Commonwealth Club of California in San Francisco on March 21. (Editor's note: Business Times reporter Mark Calvey is moderating the event.)
Eager to maximize a trip to the Bay Area, Heer said she's bringing colleagues along with her to call on Bay Area businesses that might find the Lone Star State's tax and regulatory environment appealing.
She and other Texas officials are sharpening their focus on the Bay Area's strong suit: technology and life sciences companies.
"Our business-friendly climate, overall lower cost of living and skilled workforce are just some of the factors that appeal to companies like Toyota, Apple, Google, LiveOps, and Oracle, which have expanded in Texas since 2014," Robert Allen, president and CEO of Texas Economic Development Corp., said in a statement. Allen was in the Bay Area to meet with companies last week. The Texas delegation also included representatives of Berkshire Hathaway's (NYSE: BRK.A) (NYSE: BRK.B) BNSF Railway and the cities of El Paso, San Antonio, Houston and Irving, which is the DFW community that's home to ExxonMobil (NYSE: XOM), Kimberly-Clark (NYSE: KMB) and now McKesson.
TRENDING
"The Lone Star State is the ultimate destination for economic success," Texas Governor Greg Abbott, said in a statement. "From our world-class infrastructure to our strong right-to-work laws, Texas remains the envy of the nation."
The Dallas chamber is eager to lure skilled workers to North Texas since tech companies want a strong talent pool when expanding in the region. This week the Dallas chamber held a program on how companies can recruit "non-local talent" to the Texas city, which is eager to tout its urban amenities and DFW's cost of living at its website. The Dallas Regional Chamber maintains a database of companies in the Bay Area and other regions that are ripe targets for the city's overtures, Heer told the San Francisco Business Times.
Asked whether Dallas feels it's in a tug of war with California over these companies, Heer said, "There's definitely a romance on our part, but sometimes it's unrequited."
Heer, who said she's not aware of a Golden State effort to retain these companies and their payrolls, may already be trying to appeal to her California audience in preparation for next month, praising the Bay Area's success in job creation.
"You guys are growing. You have huge job-growth numbers. You're doing something right," Heer said.
This is an original article by Mark Calvey – Senior Reporter, San Francisco Business Times. A link to the article can be found here.