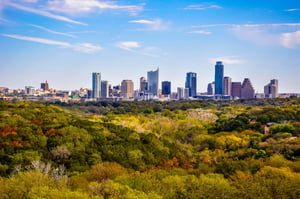 May demand of 7,960 units one of highest totals in decades
An unexpected surge in May apartment leasing in North Texas has caused vacancies to fall.
Net apartment leasing last month totaled 7,960 units — one of the strongest monthly totals in decades.
"That demand total drastically surpasses the performance seen in any other single month since this economic cycle began in early 2010," said Greg Willett, chief economist with Richardson-based RealPage. "The previous high was about 4,200 units in March 2014."
Dallas-Fort Worth apartment leasing was so strong in May that RealPage took special note of the activity.
"We don't normally push out the monthly apartment stats, as there's rarely a storyline shift from the quarterly performance," Willett said. "But I thought it would be good to go ahead and share the stunning demand result for the month of May."
May's net leasing puts total D-FW apartment absorption in the first five months of 2019 at 15,757 units — 13% more than the same period last year.
Most of May's net apartment leasing was in the Dallas area — 6,524 units compared with 1,436 in Fort Worth, RealTrends reports.
The jump in apartment leasing pushed overall vacancy rates below 5% in D-FW.
"While rent growth isn't spectacular, it is solid around the 3% mark year-over-year," Willett said. "Fort Worth's figure is 3.1%. The Dallas performance, which had slowed to 1.4% as of the middle of last year, is back up to 2.8%."
Apartment developers will no doubt be encouraged by May's strong apartment demand.
More than 35,000 apartments are under construction in the D-FW area, the most of any U.S. metro area.
Along with the big increase in apartment leasing, home sales in North Texas rose 6 percent from last year — the strongest such performance so far in 2019. Home prices in the area were up 3 percent in May from a year earlier to a record median price of $275,000, according to data from local real estate agents.
This is an original article by Steve Brown, Real Estate Editor at Dallas News. A copy of the article can be found here
US Freedom Capital is an investment manager offering US real estate investments to global investors. The offerings are structured either for financial return or for immigration by investment utilizing the EB-5 Investor Visa. The company operates worldwide from offices in Dallas, Dubai, Mumbai, São Paulo, and Washington DC. The leadership of US Freedom Capital include both the former Director and Acting Director of Immigration and real estate executives with over $3 billion of real estate investment experience.