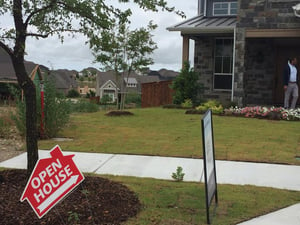 Homes in the Dallas-Fort Worth market are more affordable than this time last year, despite higher median home prices year over year.
Sound contradictory?
Not according to new research by realtor.com that shows increasing inventory, rising wages and declining mortgage rates have offset slowing price increases in many U.S. cities, including Dallas. That makes a larger share of homes affordable to buyers, especially in the mid-to upper- price range.
DFW ranked as the ninth most affordable market in the country, according to realtor.com, which defines affordability as the share of for-sale homes a buyer is able to afford in their market at their income.
The May median listing price in DFW was $350,000, and homes sold in May spent an average of 43 days on the market.
The only other Texas market to make the 50 most affordable was Austin-Round Rock, ranking eighth, with a May median listing price of $369,995 and an average of 43 days on the market.
Driven by inventory growth and lower mortgage rates, 74 out of the nation's 100 largest metros became more affordable in May 2019 compared to the previous year. This trend is a rapid acceleration from last month when only 44 metros were more affordable than the previous year.
Another recent report by realtor.com shows that DFW, like many markets nationwide, is continuing to shift from a sellers market to a buyers market.
The top 10 markets for home buyers include Albany, New York; Chicago; San Antonio; Jacksonville, Florida; Riverside, California; Los Angeles; Providence, Rhode Island; Dallas; Nashville, Tennessee; and Tampa, Florida.
The analysis focused on markets where the pace of sales relative to inventory is below the national average and slowing, inventory of available homes for sale is growing, and sales prices are growing slower than the national average or declining.
Dallas-Fort Worth has a 4.9-month supply of for-sale homes on the market, which is up 28 percent year over year. That number reflects how long inventory would last under the current amount of demand if no more inventory were added.
Median sales price growth in DFW is flat compared to this time last year.
Home values in Dallas-Fort Worth recently fell for the first time since January 2012, dropping 0.3 percent month-over-month in April, according to a report released last month by Zillow. The median home value in DFW is $243,900, according to that report.
Inventory was up 10.6 percent year-over-year across DFW in April with 3,165 more homes on the market than last April.
This is an original article by Bill Hethcock – Staff Writer, Dallas Business Journal. A copy of the article can be found here
US Freedom Capital is an investment manager offering US real estate investments to global investors. The offerings are structured either for financial return or for immigration by investment utilizing the EB-5 Investor Visa. The company operates worldwide from offices in Dallas, Dubai, Mumbai, São Paulo, and Washington DC. The leadership of US Freedom Capital include both the former Director and Acting Director of Immigration and real estate executives with over $3 billion of real estate investment experience.