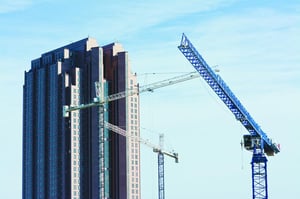 Apartment construction throughout the country is at a three-decade high with more than 403,000 market-rate units slated to deliver in the next 18 months, and Dallas has more product on the way than any other U.S. city, according to a new report.
Data collected by Richardson-based RealPage Inc. (Nasdaq: RP) indicates that over 29,000 apartment units are set to deliver in Dallas with an additional 7,000 in the works in Fort Worth. More than 5,600 units were completed in Dallas-Fort Worth in the first quarter of 2019.
"As we move into prime leasing season for 2019, there will be lots of high-end new product available in some spots," said RealPage chief economist Greg Willett in a written statement. "New luxury properties are going to be scrambling to attract affluent renters. At the same time, vacant units available to lease can be very difficult to find in properties in the middle to lower end of the pricing spectrum."
Although there has been a steady stream of new product, which has caused a slight dip in occupancy, it hasn't stopped the annual rent rate from rising in North Texas.
In Dallas, the annual rent rate rose 2.3 percent compared to 3.2 percent nationally from the first quarter of last year to the first quarter of 2019, according to RealPage.
"It's encouraging for apartment investors to see rent growth holding up so well when the new supply volumes are aggressive," said Willett. "While brand new properties still moving through the lease-up process tend to be offering discounts, pricing power actually has improved a bit for luxury developments where the initial resident base now is in place. Properties at middle-tier to lower-end price points are maintaining their already-strong rent growth momentum."
Dallas' rent rate growth is mild compared to other large metroplexes like Phoenix and Las Vegas, which are experiencing around an 8 percent increase, and small metroplexes like the Midland-Odessa where the rent rate has increased 15 percent.
RESIDENTIAL REAL ESTATE
Dallas-Fort Worth was one of the most active multifamily markets in the country in 2018 and researchers at JLL said they predict 2019 will be no different.
Their research found that apartment deliveries could hit a cycle record of 319,000 units in 2019. New multifamily deliveries peaked at 287,000 units in 2018. They also predicted that new term supply "will present a near-term challenge," which will put a damper on rent growth in areas with the "most exposed submarkets."
This is an original article by Claire Ballor - Staff Writer, Dallas Business Journal. A link to the original article can be found here.