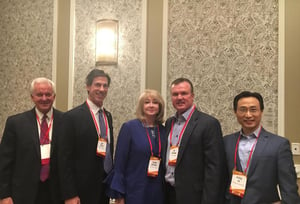 DFW may not have secured Amazon HQ2 in the first round and may never win it, but North Texas cities with a business-friendly strategy are looking really good in the face of New York's failure to commit to the retail giant.
The mindset of politicians and residents in other markets, like those in New York that cost the city a chance to nab Amazon's second corporate headquarters, is one of the drivers of Dallas-Fort Worth's booming commercial real estate market and economy, panelists said during a Bisnow event Thursday about CRE development around the North 121 Corridor and U.S. Highway 380.
Economic missteps of politicians in other states end up highlighting DFW and its suburbs as potential landing spots for companies, Risland US Holdings Managing Director Peter Lai said.
ESRP Real Estate President of Site Selection Susan Arledge addressed the question of what drives corporate relocations to DFW and surrounding suburbs like Frisco, Allen, Plano and McKinney. Arledge noted that city leaders' collaboration is critical and cited New York's forsaken Amazon deal as a lesson for politicians and developers alike who oversimplify or ignore economic considerations.
"Amazon sent a huge message to economic developers," Arledge said. "People who are anti-growth: Beware of that because elections are coming up."
"Politicians have to be economic-development minded. That is the only way we are going to be able to bring jobs in the future," she added.
Arledge pointed out that the jobs Amazon planned to bring to New York came with six-figure incomes on average, making U.S. Rep. Alexandria Ocasio-Cortez's (D-NY) criticism of companies receiving corporate welfare unfounded.
DFW and its suburbs remain in a pro-business state with a pro-growth mindset and have land and space to build, and it benefits from the philosophies of politicians in other regions that challenge corporations to the point of eschewing jobs and commercial development.
Arledge's sentiments seemed to be shared by Lai, Blue Star Land President Joe Hickman, Tellus Group partner Craig Martin and Prosper Mayor Ray Smith.
"I think the reason [for growth in DFW] is no secret," Lai said. "From my perspective, having been here for some 20 years, No. 1 — we have no state income tax. Texas is one of the few states that does not impose a state income tax on personal income and has low franchise taxes for businesses. That is a big draw for businesses."
On a more granular level, Lai said "cities are not putting up any roadblocks on developments and businesses, and that is a big plus for corporations relocating here."
Not everything is perfect. Further infrastructure developments in terms of highways and roadway improvements are a key component of fostering commercial development, particularly in Collin County, where the northernmost areas still have two-lane, rural roads in growing communities.
The Texas Department of Transportation's Travis Campbell addressed the agency's ongoing plan to alleviate congestion and approve the overall infrastructure around State Highway 121 and U.S. Highway 380. TxDOT intends to widen Farm-to-Market Road 2478, just north of the 380 Corridor, to two lanes with a median in the near future, Campbell said.
Improvements to a northern piece of Highway 121 — northeast of the city of Melissa — are also in the design phase, working up to the point of construction. This particular plan will widen this northern piece of 121 to a four-lane thoroughfare.
Longer-term projects include the ongoing U.S. Highway 380 Feasibility Study, which TxDot held a public meeting on last fall. Campbell said the agency continues to study ways to improve upon capacity and alleviate congestion on U.S. Highway 380.
Despite the need for more infrastructure for drivers, DFW continues its rapid growth rate around Highways 121 and 380.
Tellus Group's Craig Martin recalled DFW's blueprint a few decades ago, saying, "Back then, there was no thought of anything north of Beltline."
Then, the President George Bush Turnpike was considered too far north for development, he said.
"[Development] will move north again to 380 eventually," he said. "It will never stop. If you have extra money, go and buy land somewhere north of me and that will be a good investment."
Aside from congestion concerns, another barrier to corporate relocations to DFW is the region's lack of an available workforce to tap into, given the area's low unemployment rate, Arledge said.
A low unemployment rate, generally considered positive, can actually work against an area when attempting to draw relocating companies.
"[Companies] do not want to have to cannibalize an existing workforce," Arledge said.
The inevitable outcome of such a scenario is businesses driving labor costs up as they compete for the same employees.
Corporations also want to see ongoing improvements in education and desire access to next-generation workers with the right job skills and education, particularly in STEM fields, she said. DFW can be seen as lagging other markets in this department.
And while relocating companies may see DFW as light in traffic compared to other large cities, their employees are adamant about avoiding long commute times, so having easily accessible buildings is a clear retention issue for businesses, Arledge said.
Arledge believes these concerns have changed the model. CEOs and companies are making relocation decisions "on location and proximity to people before it gets made on real estate," she said.
Lai cited another unaddressed issue that could cause the area to lose its edge: climbing home prices.
He said the average price for a DFW-area home rose in the past decade to a range in line with DFW's competing markets. He remembers in 2005, new homebuyers could enter the DFW market for as low as $150K, but home prices edged up to $250K and beyond, Lai said.
"That prices young people out who want to buy homes," he said. "If we don't do something about affordability, it is going to make Dallas lose that competitive edge."
This is an original article by Kerri Panchuk, Bisnow Dallas-Fort Worth. A copy of the article can be found here
US Freedom Capital is an investment manager offering US real estate investments to global investors. The offerings are structured either for financial return or for immigration by investment utilizing the EB-5 Investor Visa. The company operates worldwide from offices in Dallas, Dubai, Mumbai, São Paulo, and Washington DC. The leadership of US Freedom Capital include both the former Director and Acting Director of Immigration and real estate executives with over $3 billion of real estate investment experience.