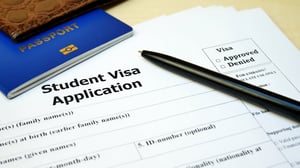 For decades, the United States of America has been an attractive option for Indian students. A provider of great education, global culture, and interaction with like-minded individuals, the nature of academic institutions in the United States has been nothing short of welcoming. But what makes learning from these academic institutions accessible? The F-1 Visa - a stepping-stone towards achieving the American Dream, of course. And just like any other visa, there are pros and then there are cons.
Benefits of a F-1 Student Visa
- No annual F-1 visa number application cut-off
- Access to world-class education
- Travel flexibility
- Enter the US with F-2 visa-approved dependents (spouse and children under 21 years of age)
Limitations of a F-1 Student Visa
- USCIS permission for off-campus employment
- 60 days to depart from the US after completion of degree
- High tuition fees with scarcity of scholarships
- F-2 visa dependents are not eligible for employment
F-1 Visa to OPT to H1-B Visa
While a few students look towards exiting the country for their homeland, there are many who wish to remain in the USA to gain relevant work experience. Some use the OPT visa program before getting temporary worker status granted by the H1-B visa program.
As far as residency status and jobs are concerned, every H-1B foreign worker and employer has one eye on the Trump administration. Indians being the largest filer of H-1B visas are the most susceptible to policy changes. Under the current law, from three times the number of applicants entering the H1-B lottery system annually, only 85,000 get an approval. What's more, to be eligible to enter the H1-B lottery system, candidates need to get their H1-B application pre-approved – a mandatory process pockmarked with rejection. So if US college application and documentation were considered an achievement, then getting sponsored by a US employer goes down in history as a win.
Benefits of a H1-B Visa
- Qualifications include a bachelor's degree and a job offer from a US company that requires your bachelor's degree
- Extendible three-year visa
- Portable status from one employer to another
- Open to nationals of any country
- Enter the US with H-4 visa-approved dependents (spouse and children under 21 years of age)
- Pursue legal permanent residency
Limitations of a H1-B Visa
- A temporary one-time visa extendable to a maximum of six years
- Lottery system with an annual cap of 85,000 on petitions
- Non-flexible petition dates
- Difficulty finding employer sponsorship to file a petition
- Steep visa fee inducing corporate hesitancy for H-1B sponsorship
EB-5 Visa: The Lottery-Free Green Card
The list of restrictions grows longer, as policies tighten year after year. So the question remains: does an American Dream aspirant want to leave their residency status to the fate of sponsorship? Or can an aspirant take matters into their hands by choosing the EB-5 Investor Visa - a program that provides Green Cards for the applicant (investor), spouse, and children (under 21)?
Benefits of EB-5 Visa
- The only Green Card without an employer or family member sponsor
- US$ 500,000 single investment for primary applicant, spouse, and any number of unmarried children under the age of 21, returned after five years (no 'ageing out' for H-4 dependent visa-holders)
- US$ 75,000 associated administrative, legal, and filing costs
- Study, work, and live anywhere in the U.S.
- Cheaper tuition, nearly one-third the cost of F-1
All said and done, every case is unique and choosing the right visa is no easy task. Especially since visa categories are as vast as the number of people applying for them the world over.
Unlike China, there are currently no EB-5 visa backlogs for Indians. So, while a merit-based Green Card could take up to 70 years, an EB-5 Green Card takes under three years.
Your takeaway: find an immigration investment expert to steer you in a direction that works purely for your benefit – whether it is to attend school, legally work, or simply enjoy retirement while living anywhere in the US. All while promoting growth and creating jobs within the American geography of your choosing.