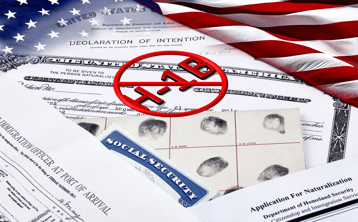 On Monday, December 3rd, 2018, the US Citizenship and Immigration Services (USCIS) published striking news that will reverberate through the homes of many Indian immigrants. In its published notice of proposed rulemaking, USCIS announced that it has submitted certain regulatory changes around H-1B petitions. These regulatory amendments could have a profound effect on the future of all H-1B petitions filed, as they intend to put in place a greater favorability in H-1B selection towards U.S. master's degree holders, who are described as "more meritorious" than other beneficiaries.
Under the proposed reform, Internet-based electronic registration would be mandatory for all petitioners filing for H-1B on behalf of their employees. Petitioners would be given a specified window to register the details of each candidate, which would then be added to a pool of randomly selected candidates from a computer-generated program. According to USCIS, this system would allow cap-subject employers to initiate registration for their preferred number of H-1B visas before they actually have to file for them.
USCIS also intends to change the order in which it selects beneficiaries. Under its proposal, separate allocations will likely increase the total number of petitions selected under the regular cap for H-1B beneficiaries who possess a master's or higher degree from a U.S. university each fiscal year.
Conversely, this process will likely decrease the total number of petitions selected for H-1B beneficiaries with less than a master's degree from a U.S. institution of higher education and those with master's or higher degrees from foreign institutions of higher education.
USCIS believes that amending its regulations in this manner would increase the chances that beneficiaries with a master's degree or higher from a U.S. institution of higher education would be selected under the H-1B regular cap. This is generally consistent with congressional intent in enacting section 214(g)(5)(C) to prioritize these workers and the administration's goal to improve policies such that H-1B visas are more likely to be awarded to the most skilled and highest paid beneficiaries.
USCIS estimates that the proposed reversal could potentially increase the number of visas allotted to individual's holding a master's degree or higher by 16%.
Although the proposed changes are the Trump administration's first attempt to enact regulatory change to H-1B, the program has been under threat since April of last year. In 2017, Trump signed the executive order "Buy American and Hire American," which has severely impacted H-1B holders from India. In light of this executive order, Indians have been facing a high level of scrutiny and denial of the H-1B visa. In a recent report from the National Foundation for American Policy (NFAP), it was shown that the number of H-1B petitions denied for Indian-born professionals spiked from 16.6% to 23.6% from the 3rd to the 4th quarter of the FY 2017- a 42% increase in the span of three months.
With so much unpredictability surrounding H-1B visa approvals, several Indian immigrants are keen to put their fears to rest. For those that do not want to leave their American Dream to luck, options such as the EB-5 Investor Visa Program could provide an adequate solution to remain in the United States. Unlike H-1B, EB-5 does not depend on employer sponsorship nor on a lottery system. Rather, through this program, investors are eligible to apply for a green card and maintain the freedom as well as flexibility to live and work anywhere in the U.S.