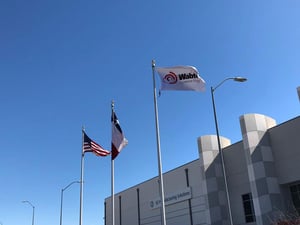 A new company officially joined the Fortune 500 club last week, and it has a major presence in Dallas-Fort Worth.
The merger between GE Transportation, which spun off from General Electric Co. (NYSE: GE), and Westinghouse Air Brake Technologies Corp. (NYSE: WAB) announced last year became official Feb. 25.
That means a major facility in Fort Worth where hundreds of GE employees made locomotives and mining equipment is now a Wabtec plant.
"This is a once-in-a-lifetime opportunity," said Raymond Betler, Wabtec's president and chief executive, in a prepared statement, adding that these two companies bring together nearly four centuries of experience.
The companies announced the $11.1 billion deal last May as part of GE Chief Executive John Flannery's plan to streamline the industrial giant. Flannery, who has since been ousted as GE stock continued to decline throughout his tenure, wanted the company to focus on its power, health care equipment and aviation business units and exit the volatile locomotive market.
Just since the plant in Fort Worth was built earlier this decade, the locomotive market has seen its ups and downs.
During a cold spell spurred by a drop in coal usage, GE had to adapt its facility to modernize existing locomotives instead of building them because railroads weren't buying new ones. But in the last few years, the market has rebounded and Class I railroads are placing orders for hundreds of new locomotives.
The combined organization will have revenue of approximately $8 billion this year, said the company, which will host its headquarters in Wilmerding, Penn., outside of Pittsburgh.
Even though both companies work in the transportation industry, they each bring something different to the table. All of GE's revenue came from freight, and none from transit rail. Wabtec, on the other hand, earned nearly two thirds of its revenue from transit last year.
RETAILING
"With the merger complete, we are focused on leveraging our complementary portfolios to spur growth," said Rafael Santana in a prepared statement. Santana previously led GE Transportation and is now president and chief executive of Wabtec's Freight segment.
This is an original article written by Evan Hoopfer – Staff Writer, Dallas Business Journal. A link to it can be found here.