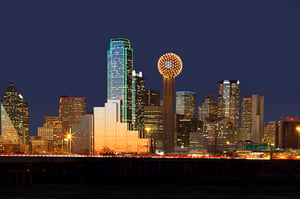 Texas typically ranks highly in listings of the best states for business. But what factors play into a business-friendly climate, and what states offer the most competition for Texas in the battle for corporate expansions and headquarters relocations?
Site selectors weighed in on that topic among the many discussed at the Dallas Business Journal's NTX HQ Corporate Relocation Summit held Nov. 5 in Irving.
Brian Corde, co-founder and managing partner of New Jersey-based site selection firm Atlas Insight LLC, said many companies zoom in on right-to-work states and also focus on the ease in which they can get things such as permitting through the government.
"Regulatory environment, setting up a good quality of place, good educational environment, places where people can graduate and then walk back to and live — I think those are the things that keep Texas strong in those rankings," Corde said.
State and local governments will go to great lengths to cut through red tape for companies.
For example, in an incentive package for Amazon's HQ2 project, the city of Dallas offered to create a concierge municipal department called the "Amazon Go Team" to expedite and prioritize all things Amazon.
"The 'Amazon Go Team' will be your friends at city hall, reachable by cell phone, obsessed with customer service, and ready to assist with any issue," the city's missive to Amazon said. "A permit is being held up? Got a zoning issue? Need to know where to get the best barbecue in town? Call the Go Team."
Seattle-based Amazon (Nasdaq: AMZN) initially said its HQ2 project would have 50,000 jobs and $5 billion in investment. The e-retail and tech giant ultimately split its HQ2 between New York City and the Washington, D.C. area.
Back at the DBJ's relocation summit, Bradley Migdal, senior managing director, business incentives practice at Cushman & Wakefield (NYSE: CWK), said a rapidly expanding work-play-live environment in Texas is attracting more millennials, as well as companies.
"One of the unique things about Texas is all the communities that surround the big cities," Migdal said. "What I see in Plano, Frisco, in Las Colinas and Irving is these little communities within the big metro area, where you're seeing a lot of these other communities where people are fleeing to suburban areas."
Texas and DFW have earned their business-friendly reputations, but other states are excelling as well, said Dean Barber, principal with Dallas-based site consultancy Barber Business Advisors.
"The Carolinas (and) the Deep South do very well," Barber said. "Georgia and the Carolinas have done their fair share. Alabama is one that has some big projects, like the Toyota assembly plant in Huntsville. Huntsville in North Alabama is very hot."
One drawback to Texas is its public education system, Barber said. The Lone Star state ranks 49th in the percentage of people over the age of 25 with a high school diploma, he added.
Atlas' Corde weighed in on why he thinks California is losing so many businesses — often to Texas.
While population size, proximity to the Asian markets and the agricultural and tech industries keep California relevant, the regulatory and legal environment drag the state down, he said.
One of Corde's clients considering a California office is budgeting for three times the legal expenses if the company locates there versus other U.S. sites, he said.
"They have a standard number per headcount, and California is three times as high," Corde said. "It's because of the litigious nature of the employees there. They just feel like they can bring up any sort of suit, and unfortunately, the courts there are allowing these to be heard."
---
Original article written by Bill Hethcock, Staff Writer, Dallas Business Journal. A link to it can be found here.