EB-5 VISA: THE NEW NORMAL?
EB-5 has risen to be the darling of investors throughout the world, looking to gain US residency by means of the investment program. But the popularity of EB-5 has turned out to be a double-edged sword as the number of new investor applications are on the rise and vacancies for country-specific quotas dwindle rapidly.
As the Trump administration initiates strict measures to make changes to the US immigration policy, the EB-5 investment visa is set to go down the path of H-1B, eventually making it tougher for Indians to get to the US soil.
The employment-based fifth preference category visa, which was lesser known till a few years ago and saw minimal interest from Indians with big pockets, has now breached the annual cap this year. India has officially hit EB-5 retrogression.
Not only has there been an increase in the number of applications, but the rise has been so significant that India has hit its allotted quota for the EB 5-visa this fiscal year. An estimated 1,000-plus high net worth individual of Indian origin filed for the I-526 last year, in order to move to the US.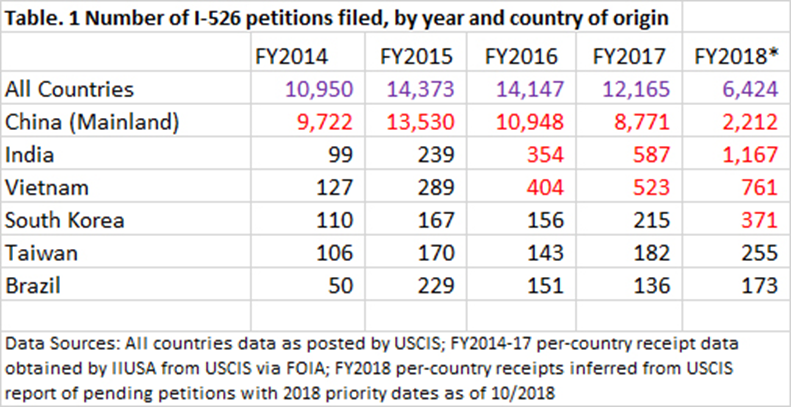 To be clear, the previous chart shows "petitions filed". Each petition has uncounted derivative applicants (spouses and children) that will ultimately each need their own visa. Historically, there have been 2.3 visas per applicant, which shows why the per-country 700 visa limit was breached for India in 2016.
This change in landscape is mostly due to the massive demand for EB-5 visas in India, and Asian countries in general. Chinese and Indian students constitute a fair chunk of the international student population in the US and due to the downfall of H-1B visa approvals as a result of stricter regulations, many of these students and their families are turning towards the EB-5.
THE "ESTIMATED TIME RANGE" CHANGE:
As was predicted by various reports over the past few months, India and Vietnam will each reach their annual limit of 7.1 percent during the month of July this year. As for the month of August, both India and Vietnam are set to be subjected to the same final action dates that are applicable to China Mainland born EB-5 applicants. This trend will continue for the remainder of the current fiscal year.
Starting July 2019, a May 1, 2017 cut-off date will come into effect on Indian applicants. As a result, Indian applicants who have submitted their EB-5 applications before May 1, 2017 will be eligible for a permanent resident visa whereas, applicants who have a priority dated on or after May 1, 2017 will have to wait until their date gets listed as current.
There have been some very dramatic updates to the EB-5 visa processing time, as posted on the USCIS page.
The processing time of I-526 petitions has gone up from a previous update estimate of 22 - 28.5 months to 29 - 45.5 months.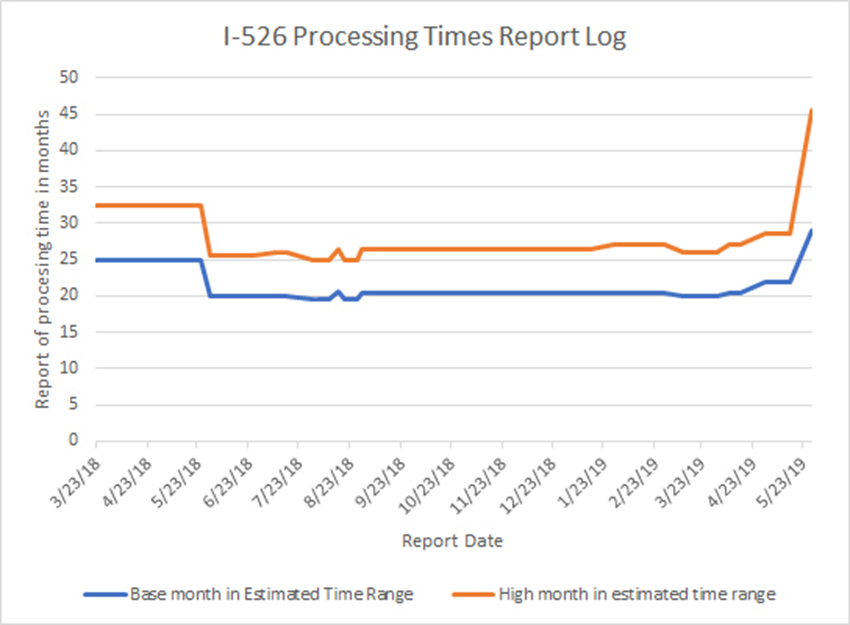 Source - https://blog.lucidtext.com/category/eb-5-statistics/
The processing time of I-829 petitions has seen the lower end of the spectrum reduced to 25.5 as opposed to 30 months in the previous update but the other end is now stretched to 40.5 months from 38.5 months.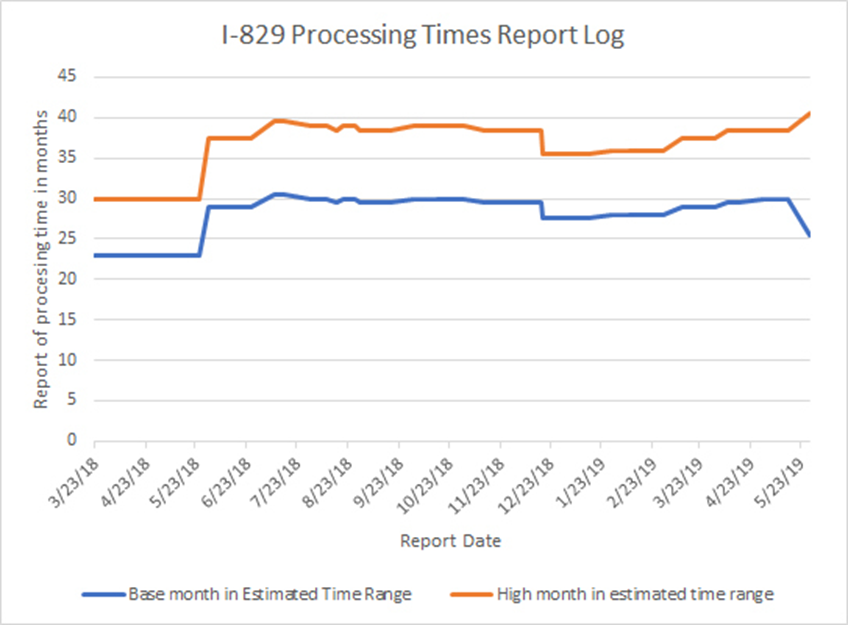 Source - https://blog.lucidtext.com/category/eb-5-statistics/
According to the Chief of Immigrant Visa Control & Reporting Division, U.S. Department of State, Mr. Charlie Oppenheim, there are certain set predictions for the trends of EB-5 application status of various countries with a specific focus on applicants from China - Mainland, Vietnam, and India.
Here is a table for tentative dates of the status of various applications as per nations on the Final Action Date (FAD) as released on the Visa Bulletin by Mr. Oppenheim himself.

The date range from Mr. Oppenheim's chart for India is derived from the calulation of wait times. For example, do Indians wait only behind Indians, or do they wait for any global applicants who applied ahead of them? It seems the US State Department does not yet know how that will be determined.
EB-5 petition processing stats show that very few forms have been processed each fiscal year but the numbers were disappointingly low for FY2019 Q1. The data has been summarized in the graph below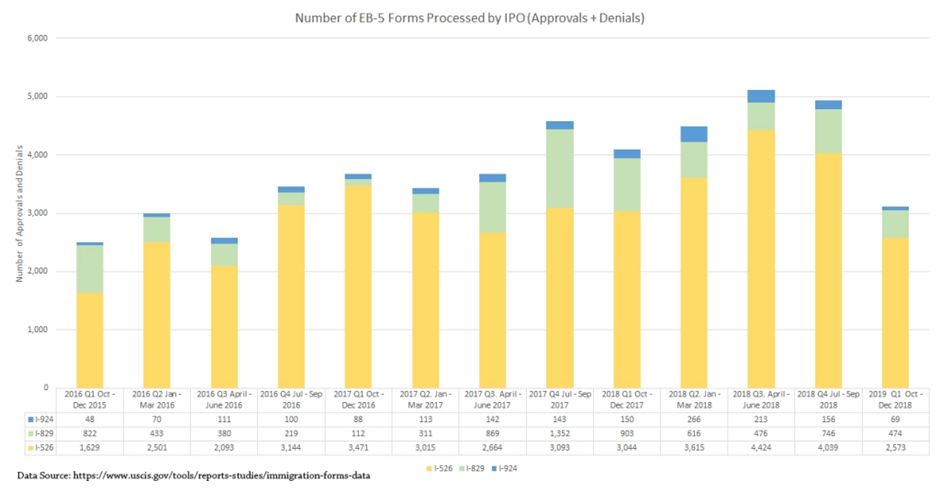 You can check the statutory numbers for EB-5 visas here.
CONSEQUENCES: THE GOOD vs THE BAD:
For the citizen of any nation looking forward to entering the US through EB-5, exceeding the 7% cap is quite scary as it puts their country in the same line as China for remaining EB-5 visas, and nearer the back of that queue on the basis of priority dates and the FIFO process.
The silver lining for smaller nations is that they can at least get 7% of EB-5 visas (700 total) every year, and are less likely to exceed that cap by a big margin.
For demonstration, If an Indian applicant is held back in 2019, they will be one of the older Indian applications next year and thus, get to be well-placed as one of 700 new EB-5 visas available to Indian nationals then.
This works on a very basic principle.
Small Surplus => Minor backlog => Reasonable wait time.
The Indian applicants, however, need to be a bit more concerned and vigilant. High EB-5 numbers are newfound for India but the increase in applicants will have a spillover effect very soon. The retrogression is currently estimated at 26 months which should not have a huge impact as it runs concurrently with the processing time. Also, October will see the new quota of 700 becoming available.
The much-needed leftover visas, in this case, won't be available for Indian applicants for years to come as they will land upon queue behind other leftover applicants from China/Vietnam backlog plus the new rest-of-the-world applications.
THE BOTTOM LINE:
In India, the number of applicants exceeds the annual quantity of visas available. Every year for the foreseeable future, the wait time will increase. Hence, the sooner you apply, the shorter your ultimate wait time.
US Freedom Capital is an investment manager offering US real estate investments to global investors. The offerings are structured either for financial return or for immigration by investment utilizing the EB-5 Investor Visa. The company operates worldwide from offices in Dallas, Dubai, Mumbai, São Paulo, and Washington DC. The leadership of US Freedom Capital include both the former Director and Acting Director of Immigration and real estate executives with over $3 billion of real estate investment experience.