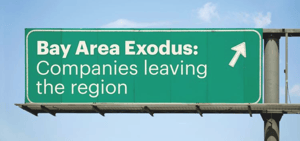 McKesson's decision last week to move its headquarters from San Francisco to North Texas raises the prospect that more companies could decide it's time to move to lower-cost, lower-tax cities.
It's especially true for the long list of Bay Area corporate stalwarts outside the tech sector that don't depend on tapping the region's deep bench of tech talent. Then again, even San Ramon-based software maker rfXcel, which plans to eventually employ 200 people, said last week that it's uprooting its East Bay headquarters and heading to Reno, Nev.
"Your employees are your assets and those assets walk out the door every day. If you're not in a region that offers great quality of life, they're not gonna stay," rfXcel CEO Glenn Abood told the Reno Gazette Journal.
In August, Core-Mark Holding Co. Inc. (NASDAQ: CORE) said it will move its headquarters to Dallas-Fort Worth in 2019. The Fortune 500 company is the second-largest distributor to the nation's convenience stores, with 100 of its 9,000 employees working at the corporate headquarters.
"While San Francisco is our long-time home, the business has expanded dramatically over the years," said Scott McPherson, president and CEO of Core-Mark. "Being closer to our customers and more central to our divisions will create cost and logistical efficiency for us."
Privately held Bechtel Corp. also moved its long-time San Francisco headquarters to Reston, Va. this year.
Some expect the corporate relocations out of the Bay Area to escalate in 2019 as the region's senior executives find themselves paying higher taxes following Trump's tax overhaul that limits the federal tax deduction for state and local taxes to just $10,000. Talk of a Bay Area exodus is expected to intensify next spring as the region's residents pay their 2018 taxes.
Perhaps it's an only-in-San Francisco moment that the loss of two Fortune 500 headquarters, plus Bechtel's, creates barely a ripple in the region's business community.
But some are watching warily.
"California has to be responsible in terms of how it thinks about its competitive position. You get in a position where things are going so well you forget that you're in competition," Bay Area Council CEO Jim Wunderman told the San Francisco Business Times in an October interview. "You have to fight to keep your advantage — and taxing, taxing and taxing doesn't seem to me to be the way to do it."
Southern states are becoming more savvy in pursuing corporate headquarters, especially those located in high-tax states such as California. North Carolina is offering larger incentives to win the high-paying jobs that come with a headquarters relocation, which Honeywell (NYSE: HON) cited as one factor in its decision last week to move its home base to Charlotte from New Jersey.
Other states, especially Texas, aren't shy in going after the headquarters of major companies.
Irving, which includes Las Colinas, where McKesson will move its headquarters in April, likes to call itself the "headquarters of headquarters," with Exxon Mobil (NYSE: XON) and Kimberly-Clark (NYSE: KMB) calling the city home.
In 2016, McKesson (NYSE: MCK) received $9.75 million in Texas state incentives and $2 million in incentives from Irving as part of a big expansion there at the time. No additional state incentives were given for McKesson's headquarters move, a spokesman for the Texas governor's office told the Dallas Business Journal.
Irving is courting other companies to follow McKesson, with another 80 prospects for corporate expansions or relocations in the city's pipeline, said Beth Bowman, president and CEO of the Irving Economic Development Partnership.
Then there's nearby Plano, where its ambitions to be the hometown of more companies is apparent from the city naming one of its main drags, Headquarters Drive. The street already features the headquarters of Pepsico's (NYSE: PEP) Frito-Lay division, FedEx (NYSE: FDX) Office, Toyota's North American headquarters, and J.C. Penney (NYSE: JCP).
"If you know of any Bay Area companies wanting to move their headquarters, let them know I'm eager to talk," said Plano Mayor Harry LaRosiliere.
---
Original article by Mark Calvey, Senior Reporter, San Francisco Business Times published in Dallas Business Journal. A link to it can be found here.